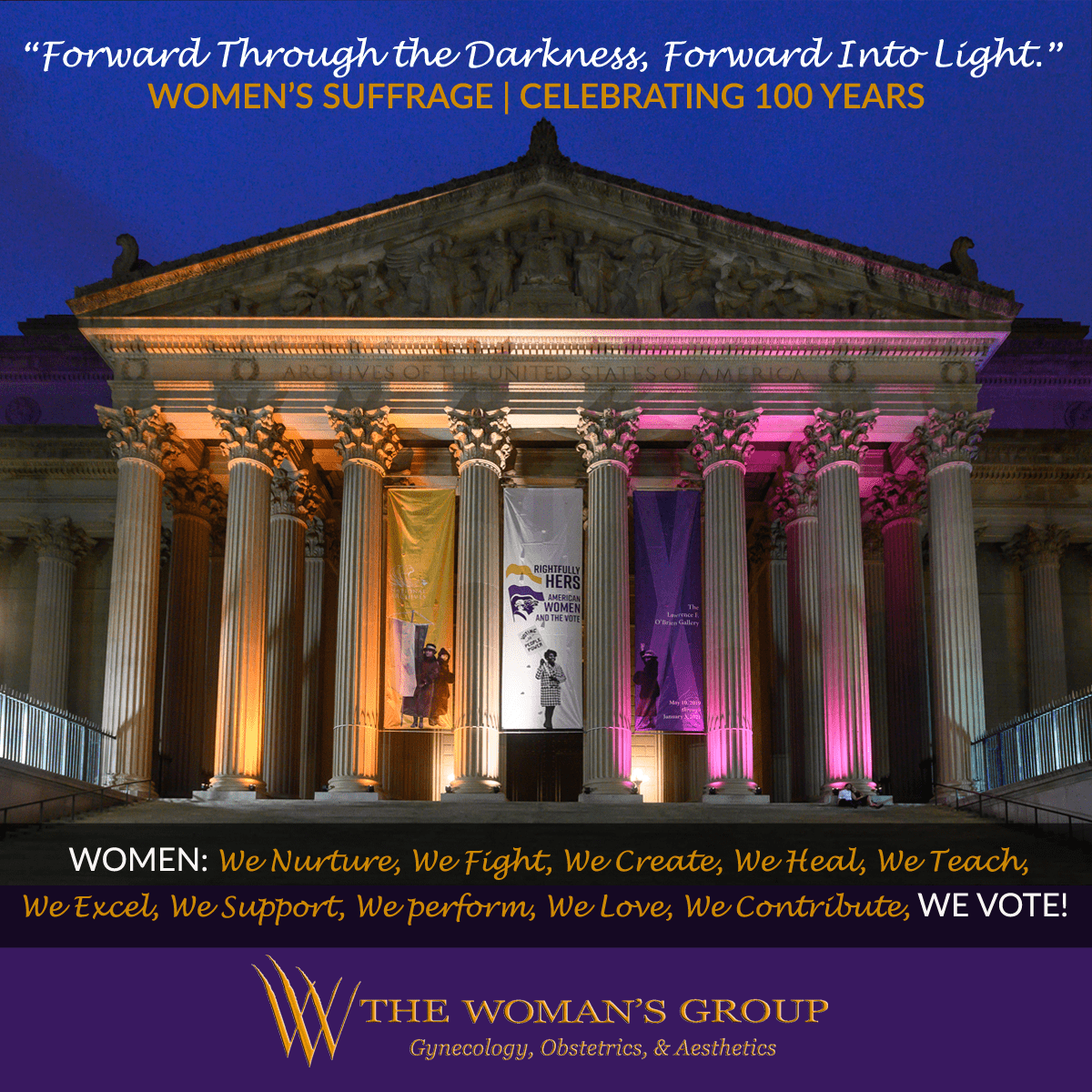 Celebrating 100 years of women having the right to vote in the United States of America is a striking reminder that what we do, what we say, and how we combine our voices can dramatically affect our lives and the lives of those around us! We (women) can be and have been powerfully connected and passionately helpful with our vote; a collective voice for ourselves and those who most need us.
For the last 100 years we have been busy! We have become the not-so-silent, the inventors, the change-makers, and the tireless supporters of equality.
During this centennial celebration of our right to VOTE, we proudly celebrate our voices, our efforts, our deep commitment to listening, hearing, and acting for what is good, and the value we find in the eyes and hearts of each other.
The Woman's Group is a proud example of a business founded, owned, and operated by women, in the service of women! We love our Tampa community and support strong, capable, and diverse women in Tampa and across America! Together we are more than a force to be reckoned with, we in-arguably continue to speak truth and equality to power!
If you are reading this, you are likely a treasured patient of The Woman's Group. We thank you for being with us and for trusting our all-woman practice with your gynecological, obstetric, or wellness care.
As we celebrate this day and this year as a milestone for women everywhere, we thank you for the contributions you have made with your actions and with your voice as a woman. Let's keep it up! Let's stay strong and convicted!
You can join us in celebrating this occasion by participating in and promoting the #ForwardIntoLight campaign by the Women's Suffrage Centennial Commission! Simply get engaged with the hashtag #ForwardIntoLight on social media! Like, share, and post pictures and content that support and recognize this once in a lifetime moment! This is a safe, fun, and meaningful way to participate and it's family and covid-19 regulation friendly!
You can learn more, grab some historical pics and usable images to share on social media here at the 'Forward Into Light' webpage. While there, take a few moments to explore the website and find the historical sites that will be lit-up with purple and gold at dusk on August 26, 2020 in support of women's rights. These famous and historical buildings range from The National Archives, The Smithsonian, The White House, and The Kennedy Center, to Niagra Falls and The One World Trade Center plus State Capitol buildings and local buildings, bridges and landmarks in every state!
If you find a participating site close to you, it may be fun to take a drive by while it's lit-up to snap your own pics and share with hashtag #ForwardIntoLight! If you do this, please also add hashtag #TheWomansGroup on fb and instagram so we can find you and give you a like or a love!
Although a simple post doesn't seem to be enough to commemorate such an incredible moment in time, we know that any reach is good reach. Any steps we take to support, recognize, and lift each other up are good steps. As we connect and share, we grow, we build. Our great strength is seen and heard when we all do a little.
#ForwardIntoLight  #TheWomansGroup #SuffrageCentennial