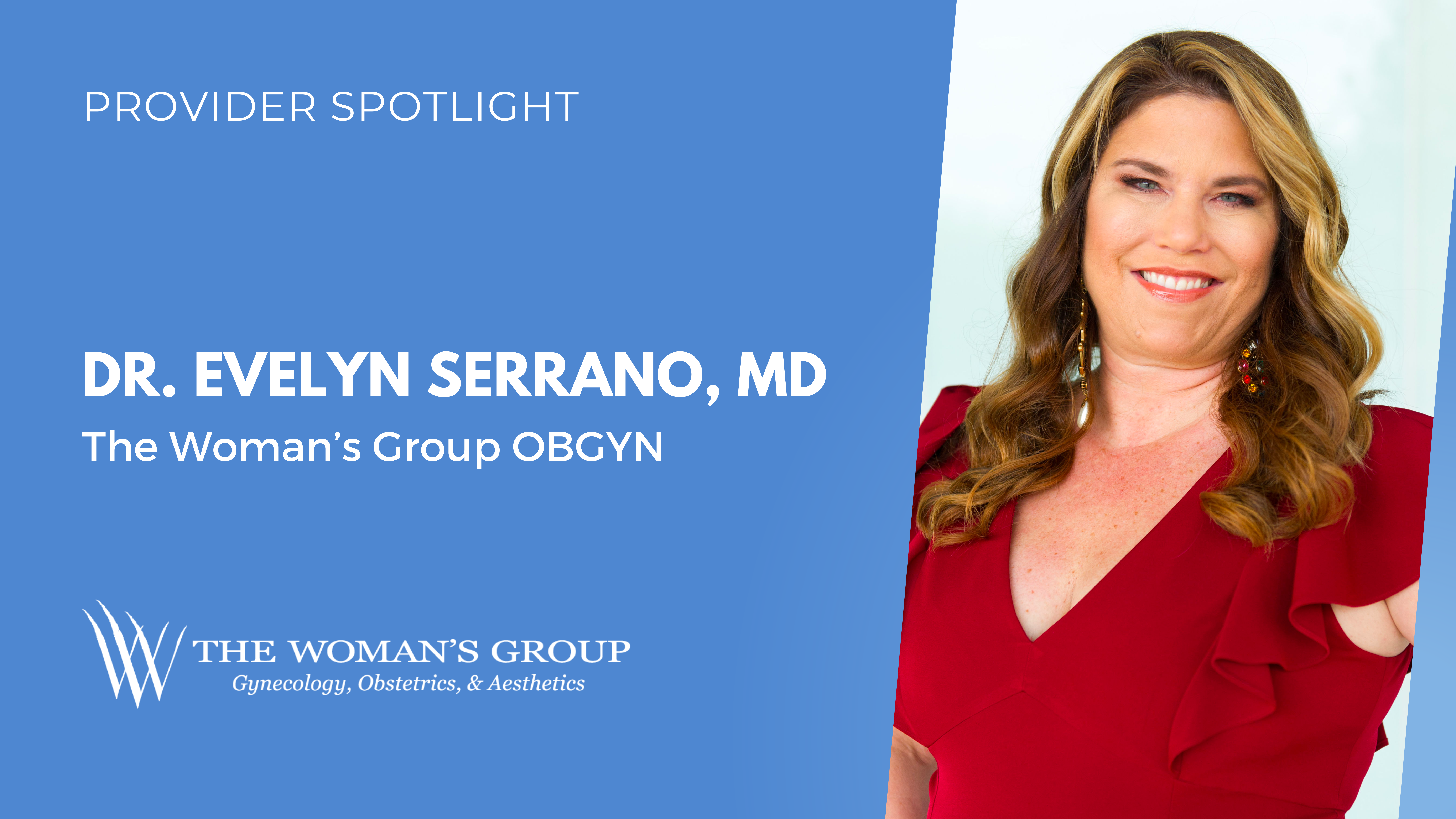 Provider Spotlight | Dr. Evelyn Serrano, MD

Welcome to our Provider Spotlight series!
In this section, we are shining a spotlight on Dr. Evelyn Serrano, MD, a highly esteemed Obstetrician and Gynecologist who has been a valued member of our medical team for many years. With her extensive background and deep commitment to women's health, Dr. Serrano brings a distinctive combination of proficiency and empathy to her medical practice.
Get to know Dr. Serrano with us, in her own words!
What first drew you to the field of Obstetrics and Gynecology?
I think what first drew me to the field of OB/GYN was to be able to follow a woman through all phases of their life. This allows me to have variety in what I do as a physician on a daily basis. I am able to provide well-woman care to all ages, perform procedures and surgery, and follow women through their pregnancy. This aspect of care provides immense satisfaction.
What do you enjoy most about being part of The Woman's Group?
What provides the most satisfaction to being part of The Woman's Group is working with like-minded women for the same goal.  I am proud to have partners who strive to provide the highest care possible to our patients and to be the premier OB/GYN group in Tampa. I was a patient myself at The Woman's Group when I was a medical student and had just moved to Tampa.  It has always been my idea of what a total woman's care practice should be, long before I knew I even wanted to pursue this specialty.
What is an important value that you hold close to your heart as a physician in your day-to-day life?
I think what I value most about myself is being able to care and give 100 percent of myself to every patient. I think that this trait became even more accentuated after I became a mother to my son Maverick. I feel that I can empathize with patients in a whole new way and it makes my job even more rewarding.
What is one of the most fulfilling parts of your role in the women's healthcare field?
I think what is most rewarding in women's health is being able to be a pure advocate for women. When a patient comes to the Woman's Group they are going to be seeing a provider that is totally invested in their care and it is a privilege to be their doctor. We are a group that is owned by women for women.
What's your favorite way to de-stress?
My favorite ways to de-stress is to get involved in one of my many hobbies. I love music whether to listen or even try to play the guitar! I also love to paint, read, travel and run.
What's your favorite TV show or movie?
My favorite movies are the original Star Wars Trilogy. I can watch them over and over and never get bored. One of my early heroes was Princess Leia- she was one of the first depictions of a strong independent woman in film that I remember. Sadly, I saw The Empire Strikes back on the original run in the theater. It was one of my first movie experiences.
What's your favorite part about living in Tampa?
As a native Floridian I love Tampa. I have been here since 1999 when I started medical school. My son is a fifth generation in Tampa, as this is where my husband's family is from. I love that Tampa has big city opportunities with more of a small town feel. We have all the major sports teams, wonderful art and theater and fantastic music. On the other hand, I run into patients all the time that have known my husband's family for generations. It is kind of the best of both worlds for me.