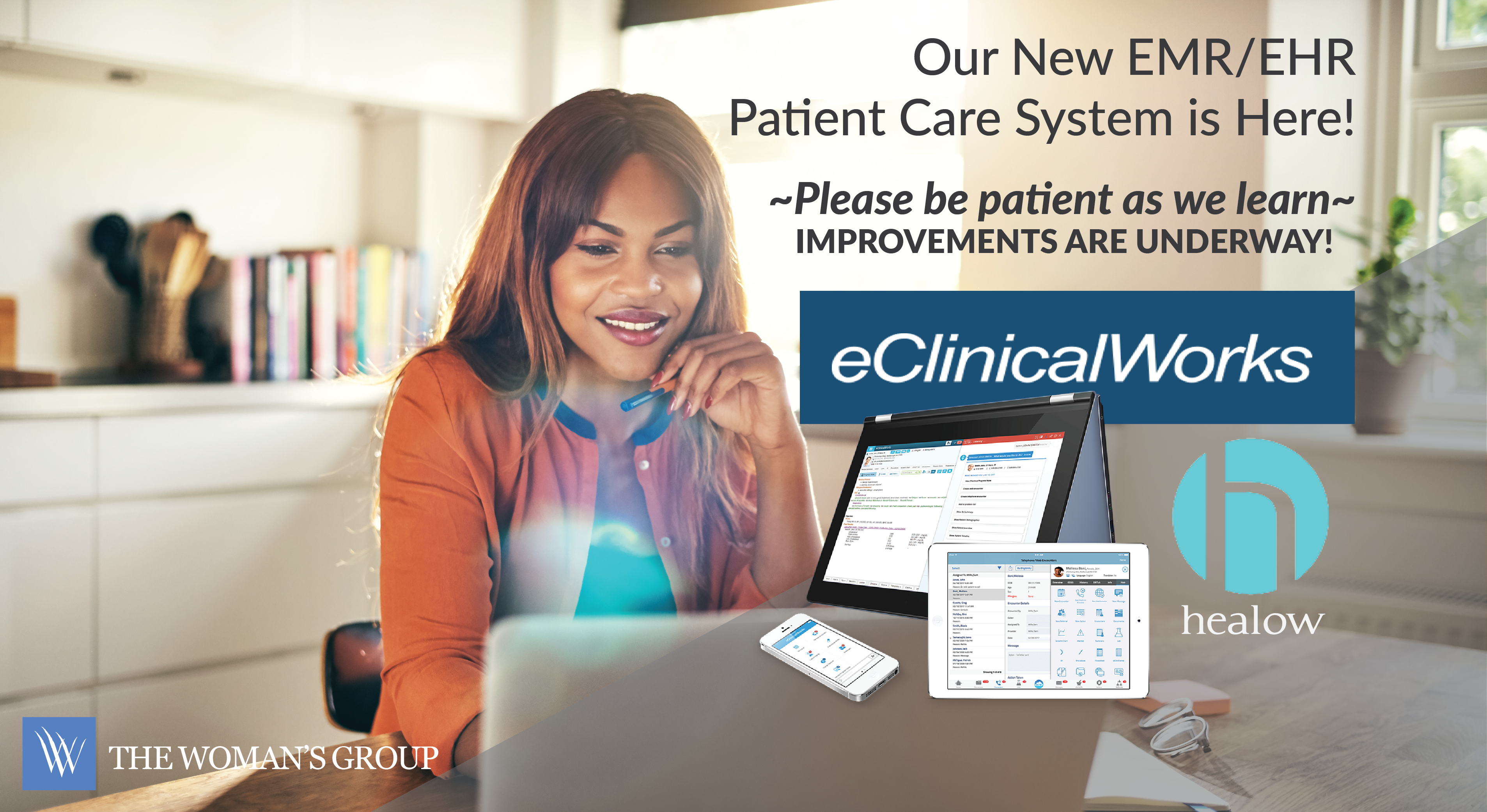 To Our Valued Patients,
The Woman's Group is currently implementing a new and wonderful EMR/EHR (Electronic Medical Records/Electronic Health Records) management system in our offices to improve patient care. We are excited to offer our patients this new, easy-to-use system with safe access to personal health records, annual appointment scheduling, insurance and billing information.
While we expect the overall implementation process to take several weeks to complete, office hours will only be shortened for 3 half days of staff training. These days are Wednesday through Friday, October 14, 15, and 16. Please note the ½ day schedule for each location and the hours available for patient appointments on these days.
SOUTH TAMPA, 2716 W. Virginia Ave., Phone: (813) 875-8032 – Hours on Oct. 14, 15, 16 OPEN 1pm-5pm.
NORTH TAMPA, 5380 Primrose Lake Circle, Phone: (813) 769-2778 – Hours on Oct. 14, 15, 16 OPEN 8am-12pm.
LAND O'LAKES, 1908 Land O' Lakes Blvd., Phone: (813) 428-7030 – Hours on Oct. 14, 15, 16 OPEN 1pm-5pm.
RIVERVIEW, 13005 S. US Hwy. 301, Phone: (813) 915-5291 – Hours on Oct. 14, 15, 16 OPEN 8am-12pm.
During the first few weeks, you may experience delays during appointments and also in scheduling and billing communications while we are learning to work within the new system. We apologize in advance for any inconveniences this may cause. As we move forward with excitement for the many ways the new system will improve and enhance patient care, we ask for your understanding and patience with us during the learning curve.
Please note that our current patient portal online will not be accessible during this process. Once the implementation is complete, our new patient portal login will be live in the same location on our website where you log in to the patient portal now. In the meantime, we ask that you call the office with any questions, concerns, or issues that you may have.
During this process, we will be communicating updates through our website and social media, please follow us on Facebook, Instagram and our website.
Soon you'll be experiencing the positive changes of our new EMR with us – and we look so forward to that! We appreciate you.

The Woman's Group