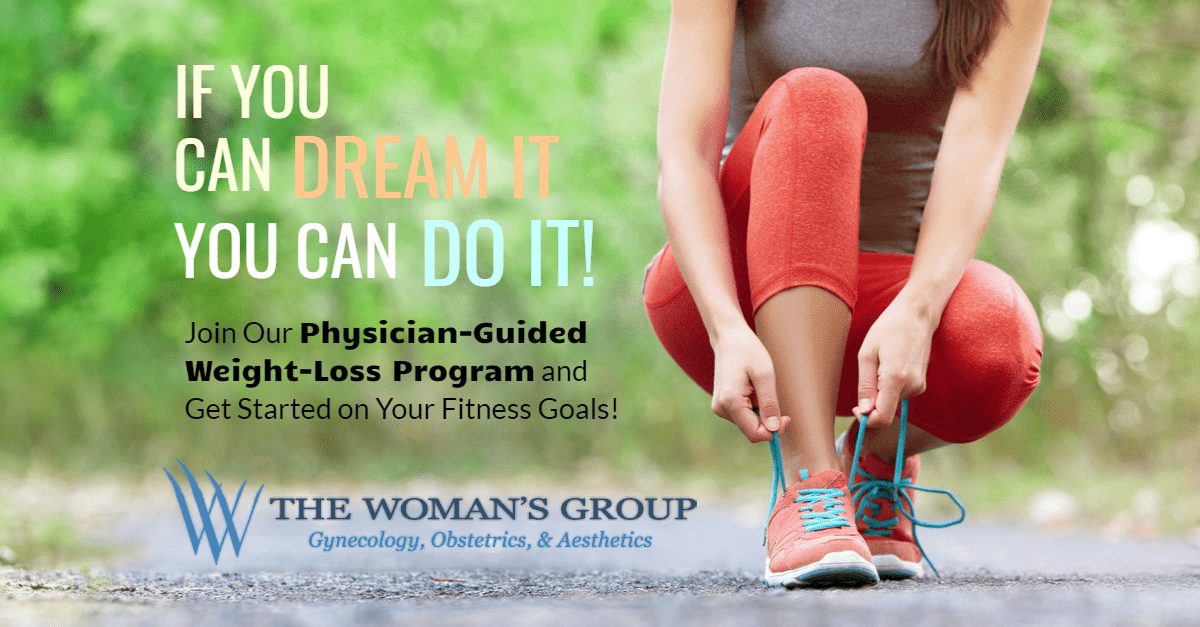 Summertime is upon us and it's the perfect season to set some personal goals for good health and fitness!
If weight loss is a part of your plan, how will you determine your progress? Do you know what a safe level of weight loss would be for your body over a certain period of time, or could you use some support from a trusted doctor? How will you choose your nutritional options to make sure you feel good and function while still making a dent in those extra lbs.?
While some women are able to find success on a solo mission of research, planning, and then refining their eating habits – most of us are busy multi-tasking our way through life. For those of us who have a harder time making (and keeping) our own goals as a priority, a physician-guided weight-loss program may be just the extra push needed to finally find success. The all-female team of physicians and staff at The Woman's Group understands this. A woman's weight loss can be uniquely difficult for many reasons. We are ready to help you meet your goals, safely and effectively!
Our signature Physician-Guided Weight-Loss Program to the rescue.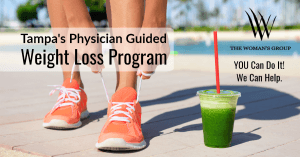 From the very beginning, our doctors partner with you to establish achievable goals, specific to your situation and needs. Starting with an EKG and blood tests, your history and current physical condition are all taken into consideration. Your personalized plan is created and explained in detail during your first appointment. In addition, you'll begin a prescription appetite suppressant and medical-grade supplementation. As a result, your journey will begin at your first appointment! Scheduled follow-up visits encourage, support, and keep you accountable along your weight-loss journey.
Results from this type of guided accountability program often become long-lasting changes in lifestyle choices. If you are tired of the yo-yo diet fads that don't work (and can cause harm), schedule your first appointment with a trusted TWG doctor. Begin your journey and let us help you with a personalized, dedicated plan to safely lose those extra pounds.
What costs can be expected in joining our weight-loss program?
• First appointment/ initial consultation and assessment: $200
(Includes all tests, medication for first week, weekly shot and initial supply of supplements)
• Follow-up visits (per visit): $60
(Includes medication for the week and weekly shot. Supplements are priced separately. Weight Loss is not covered by insurance companies, therefore our patients are responsible for all program fees. All fees are due at the time of service.)
How does this program compare to other weight-loss programs for women?
There are a great number of weight loss programs to choose from in the marketplace. Some plans include buying prepackaged food from a vendor and others focus on work-out plans and/or fasting. The options are many and the the costs vary accordingly. The Woman's Group Physician-Guided Weight Loss Program offers a high level of support and accountability for success with a medium investment over time. We find this approach is a good fit for our patients. You can read more in-depth about our Physician-Guided Weight Loss Program here. For an overview of some additional popular types of weight loss programs and their costs, CareCredit offers this overview and breakdown.
Is TWG's Physician-Guided Weight-Loss Program only for local Tampa residents?
Yes. Because we require a physical exam, tests, weigh-ins and progress charting, patients are required to participate in-person. For those living too far to drive weekly to one of our offices, we recommend looking for a reputable physician-guided weight-loss program in your local area. Although as an OBGYN we predominately see women at our practice, we certainly welcome all people, not just women – to start their weight loss journey with us! New patients are welcome!
Whatever you decide, before embarking on a new weight loss journey, take the time to be realistic with yourself. Envision which type of plan best suits your lifestyle and will provide the level of structure and goals that are right for you. As always, if you have questions or concerns, ask your trusted doctor before you start.
Reach out to your preferred TWG office or submit an appointment request to begin your journey!
We know YOU can do it; and WE can help!