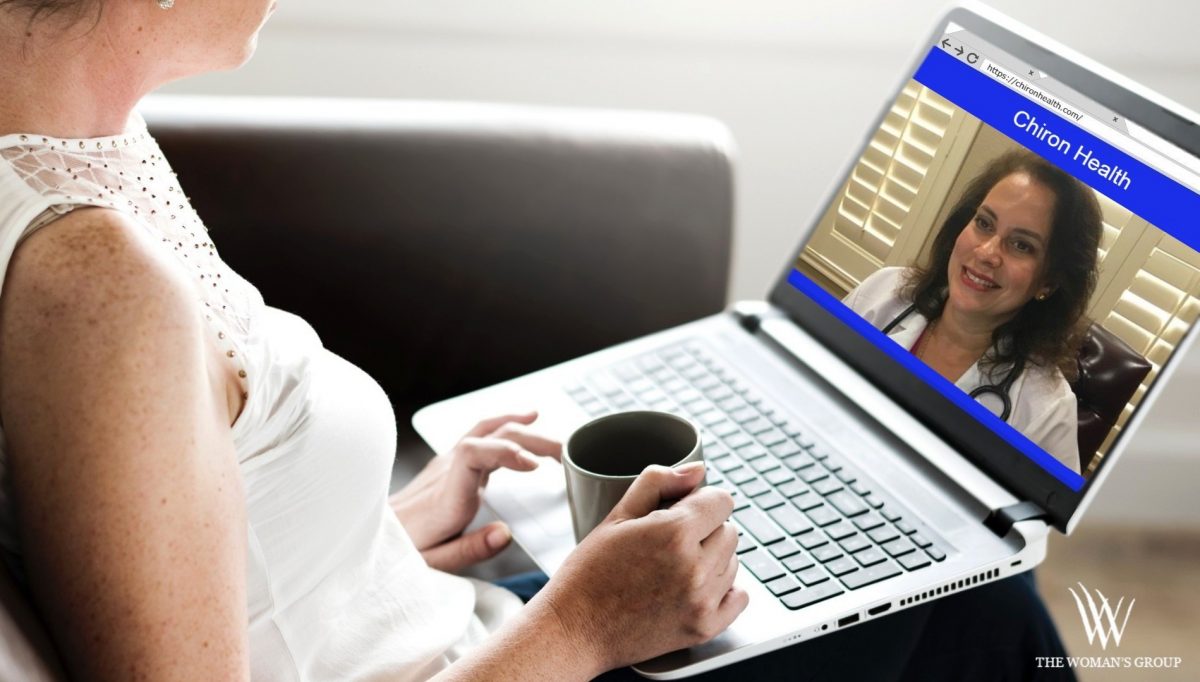 Seeing your OBGYN from home using your laptop, tablet, or smartphone for a telemedicine video visit is an option at The Woman's Group Tampa
The Woman's Group recognizes fear and concern are growing concerning the coronavirus (COVID-19) pandemic in the United States. With multiple cases diagnosed across Florida, we want our treasured OBGYN patients to stay safe, calm, and informed about the ways to reduce public exposure and practice social distancing.
*UPDATED ON APRIL 8, 2020
In addition to traditional office visits, The Woman's Group offers Telemedicine Video Visits for some types of appointments. During these visits, you can expect a one-on-one, secure video conference between you and your doctor. These visits take place by utilizing your smartphone, tablet, or personal computer. For these appointments you never have to leave your home or place of business. Just make sure you have a location where you can converse and talk with your doctor privately. The connection is secure and your doctor will be in a private room at the office.
At The Woman's Group, we are doing the things we can to support our community of patients with the latest technology in patient care. We use the highest grade security for these new technologies to ensure peace of mind. We are continuing to deliver excellent patient care and ongoing support to our patients during these times of uncertainty and concern. Together we can stand calm, stay strong, make smart decisions for our families' health and ultimately do what women do best – hold ourselves and our communities together.
Learn more about Telemedicine Video Visits here: https://thewomansgrouptampa.com/video-visits-telemedicine-tampa/
Using our website you may request appointments for Telemedicine Video Visits and traditional office visits for any location. For traditional office visits, please review our new in-office policies which have been updated to support the current CDC recommendations.
⭐️In-Office Policy Updates: Effective immediately⭐️
As we continually evolve our strategies to meet patient needs while maintaining all of the CDC's recommendations, please know that we have the best interest of our patients and staff in mind. We are all in this together.
For the continued safety of our patients and staff, we will no longer allow visitors to accompany the patient during her visit. If you have extenuating circumstances, then please contact our office prior to your appointment.
Starting Monday, April 13th, our office hours will temporarily be reduced to a 9am-3pm schedule.
We expect to resume normal office hours on Monday, May 4th.
Each patient visiting our office will be screened for symptoms.
As always, we comply with regulations for cleaning/sanitizing our rooms, equipment, and common areas.
As recommendations change for handling COVID-19, we will continue to keep you informed.
We look forward to seeing you – online in a video conference and/or in our offices face to face! We are taking the proper precautions and we hope you and your families are too. We are in this together and we appreciate your trust in us.
Regarding Coronavirus (COVID-19): The Woman's Group does not have COVID-19 test kits and is not administering tests for the coronavirus. The Woman's Group recommends following the CDC for updates. If you see or feel any signs of the flu or coronvirus, schedule an appointment with your general care practitioner. Those who have been diagnosed and treated early so far have a high rate of healing and survival. The health and wellness of yourself and your family come first. When it comes to sickness and contagious disease, if in doubt, make the appointment and get checked out.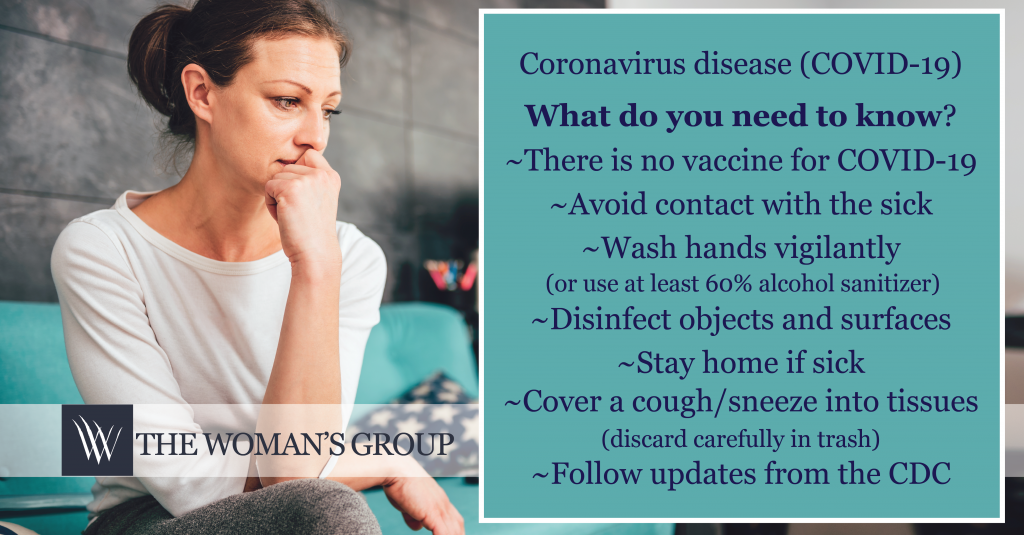 Please review and follow the CDC's main safety guidelines for coronavirus (COVID-19):
Practice social distancing when possible
Avoid contact with the sick
Wash hands vigilantly (or use a 60% alcohol content or higher hand sanitizer)
Disinfect commonly touched objects and surfaces as often as possible
Stay home if sick
Cover a cough and sneeze into tissues (discard tissues carefully in trash)
Follow updates from the CDC
Visit the Center for Disease Control (CDC) website about the coronavirus at:
https://www.cdc.gov/coronavirus/2019-ncov/specific-groups/pregnant-women.html
From All of Us at The Woman's Group, we appreciate each of our wonderful patients and their families. We want you all to be safe and empowered with the information you need. We're in this together!