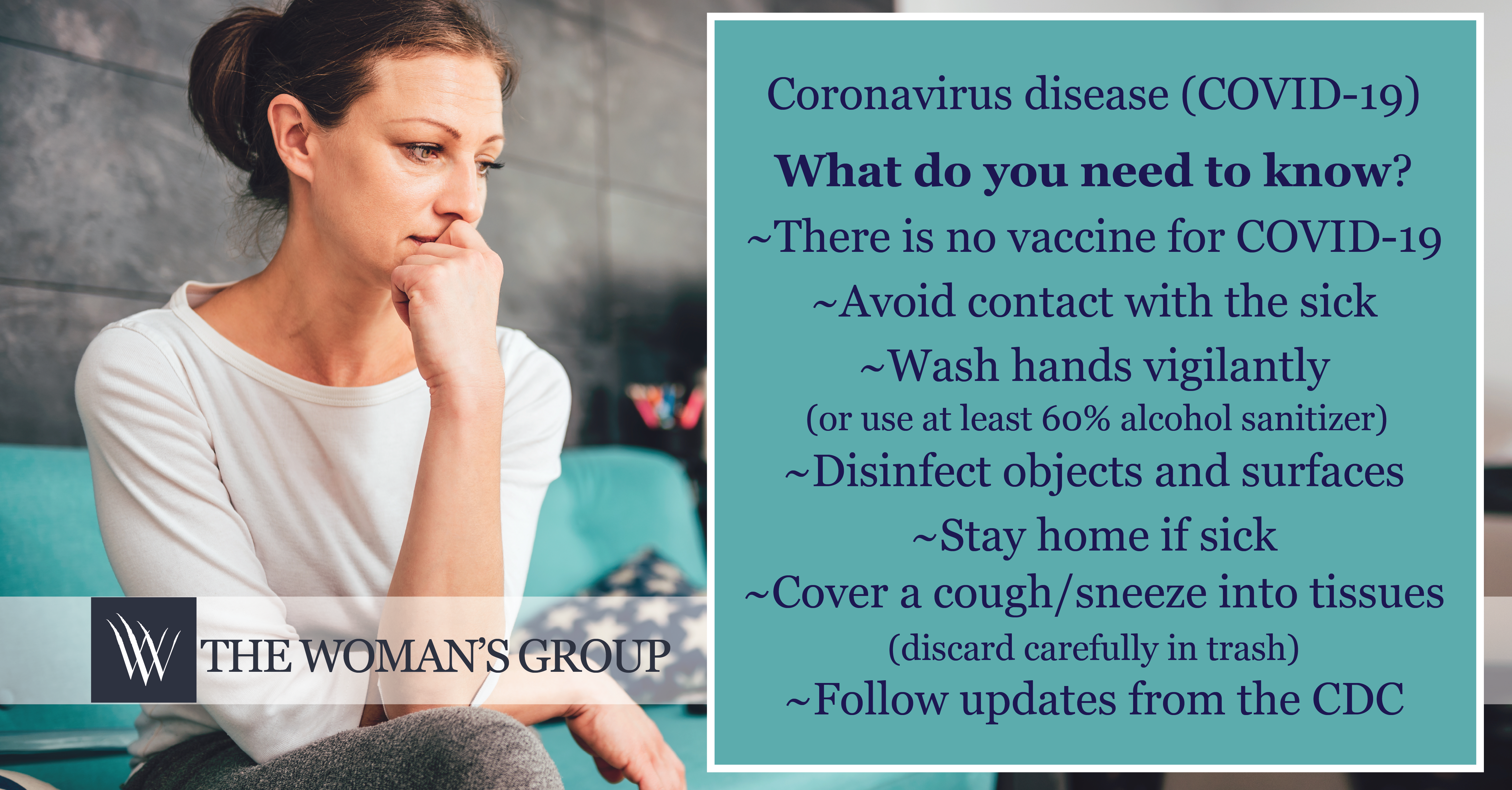 Coronavirus (COVID-19) – What do you need to know?
The Woman's Group recognizes fear and concern are beginning to spread concerning the possible outbreak of coronavirus (COVID-19) in the United States with a few cases diagnosed in Hillsborough & Manatee counties. We want you to have the information you need to make good decisions, stay calm, stay informed – and keep yourself and your family safe.
There are some things we do not know about this virus. For example, we do not know if coronavirus can be passed to the baby for expectant mothers or if it can be transmitted through breast milk. For now, the safety guidelines remain the same for all persons, including those who are pregnant. There is no vaccine for COVID-19 at this time. This means each community member should be vigilant in their handwashing (with soap) and sanitation practices. The CDC does not recommend that we all wear masks. They do recommend those with symptoms to wear a mask if in public. This does not mean that every person wearing a mask has the coronavirus. Some have already been wearing masks in an effort they believe offers them protection. As a community, we need to remain calm and be patient with each other. Fear can make us all susceptible to weakened immune responses, which isn't helpful. You may want to consider reducing your public interactions when reasonably possible and looking into alternatives for certain aspects of your day. For example, The Woman's Group offers remote telemedicine video visits as an alternative office visits for some appointments. These are great for follow-ups, medicine questions, lab results, and more. You can learn more about these appointments that help you skip the drive and waiting room at the link below.
The Woman's Group recommends following the CDC for updates. Schedule an appointment with your general care practitioner if you see or feel any signs of the flu or coronvirus. Those who have been diagnosed and treated early so far have a high rate of healing and survival. The health and wellness of yourself and your family come first. When it comes to sickness and contagious disease, if in doubt, make the appointment and get checked out.
Please review and follow the CDC's main safety guidelines for coronavirus (COVID-19):

~Avoid contact with the sick
~Wash hands vigilantly (or use a 60% alcohol content or higher hand sanitizer)
~Disinfect commonly touched objects and surfaces as often as possible
~Stay home if sick
~Cover a cough and sneeze into tissues (discard tissues carefully in trash)
~Follow updates from the CDC
We appreciate each of our wonderful patients and their families. We want you all to be safe and empowered with the information you need.
Link to the Center For Disease Control (CDC) website
Link to the The Woman's Group Telemedicine Video Visits Page