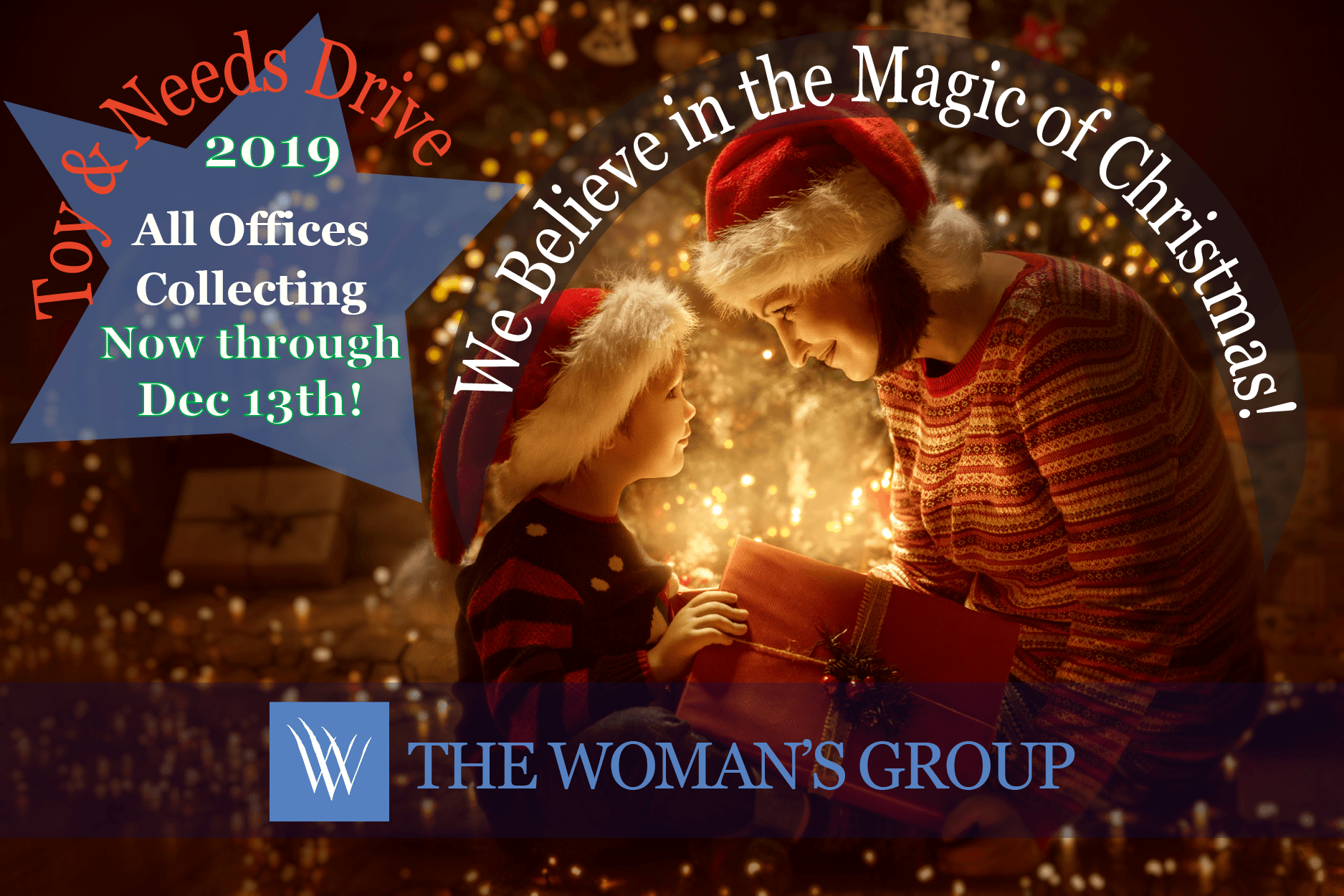 The Woman's Group Believes in the Magic of Christmas!
Please join us as we host our 2nd annual Toy and Needs/Supply drive for a local Residential Foster Home; 'A Kids Place Tampa Bay'.
Our Annual Holiday Toy & Supply Drive is Happening Now.
Please donate at any of our 4 Tampa locations by or before December 13th, 2019.

Please help us make this holiday extra special for local kids!
Drop off your unwrapped new toys, household cleaning/laundry supplies, bath & body products, or monetary donations by DEC. 13th to The Woman's Group office location nearest you between 8am & 4pm, Monday through Friday.

Contact Sheri or Jamese at 813-915-5291 with any questions.
Items most needed are:
Clothing:

Boy pajamas (sizes 5-16 youth)

Girl pajamas (Sizes 5-16 youth)

Boxers (Various sizes)           

Jeans/Shorts (teen boys and girls)

Boys shoes – size 6 – 6 ½

Personal Care:

Body Washes & Lotions


Ethnic Hair Care Products

Crafting Items:

Tempura paint

Elmer's glue

Paint brushes

Canvases

Adhesive mosaic tiles

Sequins

Beads

Craft paper rolls

Yarn

Popsicle sticks

Household items:

Pillows, Towels, Rugs, Dishes


XL twin comforters (red, blue, purple, pink)

Shower curtains

Laundry Detergent Pods

Dish Soap

Lysol disinfectant spray

 

Foods:

Canned veggies

Canned Fruit

Chicken/Beef broth

Cream of Chicken

Juice boxes

Cake/Brownie/Cookie mix

Frosting

Snack items
Most Popular Wished for Items:
Infant/Toddlers (3 & younger): Baby Einstein, Light up & Stackable toys, Shape Sorters, Activity Gyms, Mega Blocks, Crib toys, Teething rings, Tea Sets, Wagon, Thomas the Train, Little Tykes
Preschool (ages 4-6): Action Figures, Board Games, Hot Wheels, Legos, Disney, Bicycles, Leap Frog toys & games, Princess/Baby Dolls
Grade School (ages 7-12): Bicycles, Skateboards, Helmets, RC Cars, Arts & Crafts Sets, Footballs, Basketballs, Headphones, Lego Sets, Monster High Dolls, Sports clothing & Hats, Easy Bake Ovens
**Teens & Young Adults are the greatest need**
Teens (ages 13-17): Bicycles, MP3 Players, Wallets, Jewelry, Bath & Body Sets,  AXE Gift Sets, Cameras, Nail Care Sets, Gift Cards for Movies, Fast Food, Target & Wal-Mart    
Young Adults (Teens aging out of foster care): Bedding Sets, Bath Towels, Bath Sets (Shower Curtains/Rugs/etc), Toasters, Microwaves, Dish Sets, Wall Décor, Pots & Pans, Blenders, Gift Cards for Gas, Grocery Stores, Movies, Fast Food, Wal-Mart & Target
Your contributions mean so much! We are so appreciative of all the families and individuals who come together with us to support those in need! We look forward to seeing you at any of our four locations before December 13th. Donations of any size are welcome and meaningful! Thank you for believing in the magic of Christmas with us!
The Woman's Group